By Cecilia Hadley7/31/2022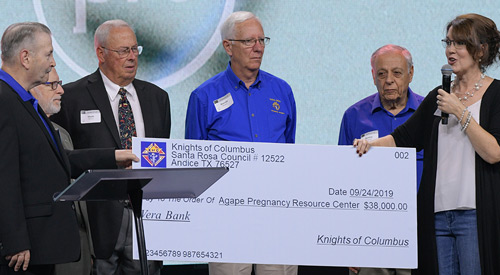 Harry Larkin, grand knight of Santa Rosa de Lima Council 12522 in Andice, Texas, did not waste time after learning about the Order's new ASAP program during an initial webinar conducted by the Supreme Council on July 16.
ASAP (Aid and Support After Pregnancy) formally launched July 15 to bolster local Knights' assistance for mothers and children in crisis. For every $500 that a council donates to a qualifying pregnancy resource center or maternity home — up to $2,000 in the 2022-23 fraternal year — the Supreme Council will add $100, a 20% increase.
"When the ASAP program was announced, I said, 'This is fantastic,'" recalled Larkin, a Knight for more than 40 years. He quickly contacted Jo Markham, executive director of Agape Pregnancy Resource Center, to get the tax form he needed to apply for the extra funds. The council has supported Agape for years and had already budgeted a $1,000 donation to the center.
"I said, 'Jo, send me your W-9,'" Larkin said. "She didn't even ask me why."
As a result of that close existing relationship and Larkin's alacrity, Council 12522 became the very first in the Order to submit an application to ASAP — a distinction in keeping with its history of assistance to pregnancy resource centers and maternity homes.
The council, which is based in a tiny town north of Austin (official population: 25), financially supports six such organizations: TruCare Pregnancy Center, Heart of Texas Pregnancy Resource Center and the John Paul II Life Center, all in Austin; Agape Pregnancy Resource Center in Round Rock; Highland Lakes Pregnancy Resource Center in Marble Hills; and Annunciation Maternity Home in Georgetown.
A few years ago, the council formed a committee to research PRCs and maternity homes in the area. The Knights visited more than a dozen sites, speaking with staff members about their mission and even meeting with clients. Hearing from women served by these centers was transformative.
"When you get a group of men talking about abortion, it doesn't really sink in until you talk to people affected by it," Larkin said. "When we started talking to some of these young ladies, it lit a fire under this council."
In the last four years, the Knights raised about $45,000 for the Order's Ultrasound Initiative. With matching funds from the Supreme Council, they purchased two ultrasound machines, one for Agape and one for the John Paul II Life Center.
The council raises money with frequent dinners and other events at Santa Rosa de Lima Catholic Church. The parishioners of Santa Rosa are also extremely generous in responding to direct appeals, Larkin noted.
While Council 12522's application to ASAP is the Order's first, it will not be the council's last. And even after meeting the 2022-2023 ASAP cap of $2,000, the Knights in Andice will be looking for ways to increase their donations to PRCs and maternity homes in the coming fraternal year.
"Going forward, these PRCs are going to be more and more important," Larkin said. "There are going to be literally hundreds of people knocking on their doors, saying 'I need help.' They are going to need money."
Learn more about ASAP at kofc.org/asap.